---
Arcanum: Of Steamworks & Magick Obscura
Dungeons & Dragon: The Temple of Elemental Evil
Vampire: The Masquerade - Bloodlines
Troika's next Project ~ Mystary!
Pre-release information, FAQs and fan made content

UberFAQ
-
-
-
-
-
-
-
-
In-game information, NPC stats and information, quest details and walkthroughs

-
-
-
-
-
-
-
-
There is currently no in-game information about this project.
There are currently no downloads or modding information for this project.
---
---
Rock, Paper Shotgun on Pillars of Eternity
Thu Jul 24, 2014 8:24 pm
Rock, Paper, Shotgun wrote:
RPS: In terms of making sure that the game is feasible for anyone to complete with so much freedom, how much work goes into balancing areas and party members? Also, when it comes to parties – I tend to pick people that I like rather than people who are useful. And in the game. Will I need to pick people with specific skillsets to progress in Pillars?

Sawyer: This actually came up in the last interview, talking about the Baldur's Gate wizard battles. They necessitated that you have a certain class of character who can cast a certain spell. We try to not do that. Ever.

If you want to have people there because you like them, that's cool. If you want to build a very utilitarian party, you can do that too. We never force you to have certain characters in your party. For example, the way that our health mechanic works – in combat, a priest may be useful in combat, helping to restore stamina during the fight. But if your character gets knocked out, the priest can't bring health back. Only stamina. So they're handy within a fight but not a necessary part of recovering after every fight.
I'm anxious to see the implementation of this. I like creating the kind of curveball parties that go outside of the established norm of tank/dps/healer/artillery. If well implemented a system where any kind of party can succeed and there are multiple solutions to any given problem would be golden, I just hope they don't take the route where everything is simplified to the point where tactics are not needed and classes essentially lose what's unique about them.
The whole article
here
Posted by Dark Elf
4 comments.
---
Update #82: Creatures
Fri Jul 11, 2014 7:03 pm
Update by Rose Gomez, Associate Producer
 
Hello backers! In today's update, we'd like to show off a few of our creatures that you might have heard us talk about in previous updates. With the end of production getting closer every day, we have some news about our backer updates, and we're also pleased to announce a date for the upcoming Backer Beta! In our next update, we'll get into more detail about that.
First, let's get to the creatures.
 
Blight




Blights are lost souls or soul fragments that have bonded with elemental substances. They are often victims of natural disasters (floods, rock slides, forest fires, etc.). They are incoherent, confused, and full of rage, an amorphous cloud that swirls endlessly and with great violence. Within the vortex, dozens of humanoid shapes materialize and vanish from moment to moment. Faces scream in silent agony while hands desperately clutch and claw at their surroundings, as though still trying to escape their tragic fates.
 
Bîaŵacs, storms that can rip the soul out of a person's body, often create blights. If souls are ripped free from their bodies and caught in the center of the storm, they may become stuck together and bonded with any other elemental substances in the maelstrom. They are pure chaos and confusion, and destroying them is considered by many to be a mercy to the souls trapped within them.
 
Blights have been the subject of controversial research carried out by the animancers of Eora. On the one hand, attempts at vivisection have led to promising strides in treating patients who, for one reason or another, contain within their bodies two or more complete souls fused together, which has been identified as the root cause of a variety of mental and physiological disorders. On the other, however, some groups lament that there is a lack of transparency on the methods being employed in these experiments, the general concerns being that these might be somehow inhumane or present some broader risk to the surrounding populace. There are also some who accuse animancers of deliberately trying to create blights for study, but the veracity of these claims is difficult to substantiate.
 
Xaurip
 



This hairless humanoid is about the size of an orlan. It has an elongated snout and snake-like eyes, giving it a very reptilian appearance. Its legs end in three-toed feet, while its elongated arms end in three-fingered claws.
 
Xaurips adorn themselves with the bones of fallen enemies - mostly xaurips from rival tribes. They also have an affinity for large feathers, which they hang and pin to their attire. Skin tones can vary from light green, to a rustic brown. Their elongated snouts (which makes speech impossible) and overly-aggressive behavior have hindered them from communicating with the more civilized races of the world. They live in secluded, tribal territories and are known for ruthlessly attacking any foolish enough to cross their path.
 
Xaurips revere dragons as deities and build their communities around the lairs of these powerful creatures. It is not uncommon for a small tribe to wander until it has found a wurm to worship. Once a tribe dedicates itself to a dragon, they will defend it at all costs. Elaborate rituals, in which the dragon consumes xaurip sacrifices, are normal. As a dragon grows in age and size, these sacrifices become large religious events that cost the lives of hundreds of xaurips. The power and prestige of a xaurip tribe directly correlates with the age of its dragon. The most powerful tribes have existed for hundreds, if not thousands of years. Warriors and shamans of these large tribes typically paint their bodies to resemble their draconic overlord.
 
Vithrack
 



Extremely rare, very dangerous creatures with natural cipher powers. They are mostly humanoid in shape, slightly taller and thinner than humans, but with horrific, fanged spider-like heads. Like spiders, they are capable of spinning silk, though they use it to make their own very intricate and fine robes. Males and females are indistinguishable from each other. They are primarily spellcasters and mental manipulators, like ciphers, though they will also attack with their fangs when forced into melee combat. Despite their extreme intelligence and power, vithrack are not a major force in the world due to their extremely low birth rates.
 
Given their arachnid appearance, it's no surprise that vithrack have traditionally used spiders as companions and minions. Though highly intelligent and socially organized, little is known about their culture as they are both hostile to outsiders and rare.
 
Their psionic powers allow them to communicate mentally with one another. Like many social insectoids, their society includes a variety of specific roles, including scouts and defenders. While their low birth rates are likely responsible for their hostility toward other races, they have also made the vithrack highly altruistic when it comes to their own kind. They will defend their nests to the death.
 
Update Schedule
 
Hey, everyone. Brandon here. With production moving into the finalization phase for Eternity, the team and I are hunkering down to finish up the game over the next few months. Going forward, we will be spacing out our backer updates a bit more from now until the project ships. They'll come a bit less predictably, but you can still expect updates as we have big announcements or special news for you. This will really help us focus as much of our efforts into putting out the best game we possibly can for everyone.
 
In our next big update, we will discuss the upcoming Backer Beta in more detail as well as what it will entail and how to redeem your copy.
 
Speaking of the Backer Beta...
 
Backer Beta
 
We will be releasing our Backer Beta on August 18th. As we mentioned above, we will get into all of the specifics about the Backer Beta in our next update. Be on the lookout for it over the next month.
 
Documentary Reward
 
We also wanted to let all of our backers know about a decision we'd recently come to about our Documentary DVD/Bluray item. We were faced with a bit of a dilemma when it came to the full documentary footage. In order to provide a physical copy of the documentary when the game shipped, we would be unable to show the final leg of production in order to have time to print all of the discs and packaging. We want our backers to be able to share the entire experience of making this game with us - from the earliest beginnings to the very end. To do this, we've decided to forgo making a physical copy of the documentary, and will instead release a digital downloadable extended version. We recognize that some of you may be upset by this decision, but we hope that you'll understand our reasoning.
 
We will be replacing the DVD/Blu-ray with another reward though. Stay tuned for a future update to find out all of the particulars.
 
That's it for this update, head over to our forums and let us know what you think.
Posted by Dark Elf
4 comments.
---
Pillars of Eternity - Angry Review
Mon Jun 30, 2014 8:20 pm
Posted by Dark Elf
3 comments.
---
The Escapist on Pillars of Eternity
Fri Jun 27, 2014 7:56 pm
The Escapist has written an article on their E3 impressions of PoE.

Arcanum, Fallout, Baldur's Gate, Icewind Dale - the games we love and cherish all employed isometric view, and of course Pillars of Eternity does the same. It's just not the view that is similar to BG though, which the Escapist points out:


Quote:
The short demo was impressive, and immediately upon seeing the opening sequence, memories of Baldur's Gate came flooding back. While the isometric view was part of that, the art and Infinity-engine style - down to the movement cursor and colored circles around characters and enemies - was strikingly similar, and that's not a bad thing.
The game apparently starts out with a classic whodunnit scenario, and I gather the big question at the beginning of the game is just who attacked your caravan, just like you're asking who caught you for what reason in BG2, and who stole the Waterdhavian creatures in Neverwinter Nights.
Quote:
The story, or as much as we got of it, begins with your character joining a caravan, which eventually stops for the night. When a runner sent out to get supplies fails to return, you and a companion are sent to find him. You find him dead, which gives you pause to check the safety of the caravan, but you return to find almost all of them dead as well. The caravan quartermaster still lives and he joins your party.
One thing that never sat well with me was the artificial class restrictions on equipment imposed by some (usually older) games. I get that a wizard may not have equivable training with a longsword compared to a fighter, but lacking training shouldn't mean you're physically incapable of grasping the hilt.
Also, there is no charisma stat in this game. Whilst I was initially shocked, it seems that they are going for a more reputation/choice based system of dialogue and quite frankly I like the sound of that. Ask yourself; why should a fighter be less suave than a rogue in dialogue? What success in dialogue comes down to in the end is things like experience, maturity, the recipient's disposition towards you and the aura of respect you command; it's not like being able to skulk in the shadows gives you the upper hand here.
Quote:
That brief snippet of story showed off a bit of the new Pillars rule system for classes, which doesn't confine a class to specific weapons or armor types. We saw a mage in heavy armor still casting spells unencumbered. We also got a bit of insight into the character creation process, and how a character can evolve during gameplay.

"You will have an opportunity to use some of your skills in dialogue as well as combat," Brennecke said. "The answers you give can change your reputation with people and be save as part of your character's history."
I just have to reiterate how much I am looking forward to this game.
Read the full article here.
Posted by Dark Elf
0 comments.
---
Update #81: The Front Line: Fighters and Barbarians
Thu Jun 26, 2014 7:03 pm
Update by Josh Sawyer, Project Director

 
In this, our final class update, we will be discussing fighters and barbarians. Along with the wily, pain-powered monks (covered in Update 52), these three classes form the front line. The front line defines the heart of any battle, where two sides tangle face-to-face. The responsibility of the front line is more than simply dealing damage. It means holding the line no matter what tries to break through. If the party rogue needs a breather, the characters in the front line need to be able to cover her retreat. If a swarm of xaurips descends on the group after the wizard hurls his fireball, the front line needs to be able to neutralize them en masse or absorb their attacks before they overwhelm the entire party. Designed to take punishment and tackle hordes, the front line are the first in and, more often than not, the last standing in any battle. Next update will focus on some brand new creatures that we haven't shown yet, so be on the lookout.
 
Each class holds the line in its own way. As covered in Update 52, the monk absorbs damage to fuel special attacks through the use of accumulated Wounds. These attacks can stun, push, or weaken individuals or small groups around them. While monks have to be monitored to ensure their Wounds do not overwhelm them, they can absorb a large amount of punishment and hamper enemy movement on the battlefield. In contrast, the fighter holds the line the traditional way: by standing her ground, blocking opponents, and being infuriatingly difficult to knock out. Barbarians are designed to jump into the fray swinging wildly. Lacking the accuracy and strong Deflection of the fighter, the barbarian makes up for his lack of discipline through sheer speed, savagery, and abilities tailored for fighting groups of enemies. We've already covered the monk's Wounds and how they play into their use, but the other two front line classes differ in how they stem the enemy tide and how players monitor and use them over the course of combat. To show you how they differ, let's look at the details.
 


 
If one of Pillars of Eternity's eleven classes is the rock (we'll skip the obvious "pillar" joke), it's the fighter. All across Eora, fighters are known for their discipline, skill, and durability. In the Eastern Reach, they are often employed as caravan guards, soldiers, and personal bodyguards. Accustomed as they are to long marches, strange places, and life on the road, all fighters gain a minor skill bonus to Athletics, Lore, and Survival.
 
In combat, fighters are steadfast and stalwart. Even novice fighters enjoy the highest base Deflection defense of any class and the ability to passively recover a small amount of Stamina every second. As the levels rise, fighters gain access to weapon specialization, modestly increasing their overall damage for all weapons in a specific category. These categories are broader than they were in the Infinity Engine games. E.g. the Knight category covers battle axes, swords, morning stars, crossbows, and war bows. The Peasant category includes hatchets, spears, quarterstaves, hunting bows, and blunderbusses. The selections are designed to cover a variety of damage types, to include one- and two-handed options, and to always feature at least one ranged weapon. At even higher levels, fighters gain abilities to recover Stamina immediately after being wounded, to protect nearby allies from incoming attacks, to knock down groups of enemies, and even to yank enemy passersby into the fray. Overall, fighters are designed to be low-maintenance, reliable, and long-lived even in marathon battles. Here are more detailed descriptions of some of the fighters' abilities:
 



Defender (Modal) - Allows the fighter to trigger Melee Engagement on up to three enemies and increases the fighter's Deflection. While active, the fighter's attack rate is reduced.


Vigorous Defense (Active) - Dramatically increases all defenses for the fighter for a short period of time. 1/encounter.


Unbending (Active) - For a moderate time, the fighter will recover 50% of lost Stamina from an attack over the 5 seconds following it. This has no effect on the amount of Health lost and does not prevent the fighter from being knocked unconscious from a temporary dip in Stamina from a strong attack. 3/rest.


Confident Aim - 20% of a fighter's Grazes are converted to Hits. Additionally, the minimum damage for any melee weapon they use is increased by 25% of the range between the minimum and maximum.


Critical Defense - 20% of all incoming Crits against a fighter are converted to Hits.


Crippling Guard - When a fighter Hits or Crits with a Disengagement Attack, the target is automatically Hobbled for a brief duration.


Unbroken (Active) - This ability can only be activated when the fighter is at 0 Stamina. When used, the fighter will stand back up with 50% of her Stamina. For a short while, her defenses and Damage Threshold are both increased. 1/rest.


A QA (Quality Assurance) favorite at Obsidian, barbarians are the wild, unconventional counterparts to fighters. Barbarians need not be from the "hinterlands" of Eora, though the vast majority are. In the Eastern Reach, barbarians most often come from Eir Glanfath, though some can be found in rural Dyrwoodan communities or drifting in from abroad through port cities like Defiance Bay and New Heomar. Barbarians are often used as shock troops for dealing with mobs or simply to intimidate the easily-cowed with their ferocity. As the Dyrwood has settled down over time, the regular employment of foreign barbarians has slowed significantly, but they still make up the majority of Glanfathan front-line forces. Barbarians all have a strong skill focus in Athletics and lesser focus in Survival.  
While fighters rely on disciplined adherence to proven combat techniques to weather difficult battles, barbarians charge furiously into melee and wreak enormous damage to everyone around them. Barbarians are relatively inaccurate, but every melee attack they make gives them an opportunity to strike out at bystanders. Barbarians have the highest Health and Stamina of all classes, which they need given their low Deflection -- a defense that suffers additional penalties when the barbarian frenzies. A barbarian's Frenzy is one of his most valuable tools, allowing him to dramatically increase his damage output and Stamina for a short period of time. However, in addition to suffering penalties to Deflection, the barbarian's Stamina and Health meters are obscured for the duration. It's not uncommon for barbarians to suddenly drop unconscious -- or dead -- when their frenzies come to an end. Many of the barbarians' higher-level powers shine when they are surrounded by a throng of enemies, outnumbered and often badly-wounded. Even so, they are designed to burn brightly and expire brilliantly in the unfortunate event that a battle drags on. Due to the nature of their abilities, barbarians are a higher-maintenance class than fighters.  


Carnage - When barbarians hit with melee attacks, they automatically make reduced-damage attacks at all additional enemies within a short distance of the target.


Wild Sprint (Active) - The barbarian gains a large movement bonus that lasts a few seconds. While active, it allows the barbarian to ignore the stop effect from Engagement as well as the hit reaction from an Engagement Hit. Additionally, his Deflection is reduced during the sprint. 3/rest.


Blooded - When a barbarian falls below 50% Stamina, he gains a bonus to damage for as long as his Stamina is below 50%.


Thick-Skinned - Allows the barbarian to take only 1 Health damage per 8 Stamina damage received, instead of the normal 1 per 4 ratio.


Brute Force - When finesse fails, barbarians rely on brute force. On any attack that normally targets Deflection, the barbarian will automatically target the enemy's Fortitude if it is the lower defense.


One Stands Alone - When barbarians are Engaged by two or more enemies, they gains a bonus to melee damage. They cannot be Flanked unless they are Engaged by more than three enemies.


Vengeful Defeat - When barbarians are reduced to 0 Stamina and have melee weapons equipped, they immediately make instant Carnage attacks at every enemy around them. 1/encounter.


Heart of Fury (Active) - In a blur of movement, the barbarian performs a melee attack with each equipped weapon at every enemy within 2m. Each attack does increased damage and Carnage applies. 1/rest.


Our take on the traditional front line classes attempts to capture the spirit of their Infinity Engine predecessors while introducing some interesting and fun differences for players to experiment with. We hope that you've enjoyed this and all of our other class updates. More importantly, we hope that you enjoy making all the parties you can imagine when the game comes out. As always, let us know what you think in our forums. Thanks for reading.  
Eternity at E3
Hey, everyone. This is Brandon Adler. I just wanted to give you a quick update about our E3 presentation.  
Everything went really well and the game was well received by the gaming press. We gave short ten to fifteen minute demos in which we showed off the first few areas and explained the basic concepts of the game. After the demo we had a quick question and answer session and gave any interviews that we could fit in before the next batch of journalists. All in all, it was a grueling, yet rewarding, experience.  
There have been some questions about why we chose to do a closed door demo for the press and have not released footage from the demo. While the demo looked great, there are still parts of the game that need more polish before we release videos to the public. In addition, a lot of the demo footage was filled with spoilers and we would like to show off portions that are less critical to the story. Look for a video that shows some non-spoiler, polished gameplay sometime in the next couple of months.  
If you would like to learn more about the demo and what was shown, take a read through some of these great articles:      
Kicking it Forward: Harbour
Our friends at
Tasty Minstrel Games
have a
new Kickstarter
that needs your support. Harbour is a light-hearted fantasy board game where you and your friends play as ambitious entrepreneurs in a bustling port city. Play as one of the many colorful characters as you buy property, sell goods, manipulate market prices - and at times break the rules.
Posted by Dark Elf
0 comments.
---
PC World writes about E3 and Pillars of Eternity
Wed Jun 18, 2014 5:56 pm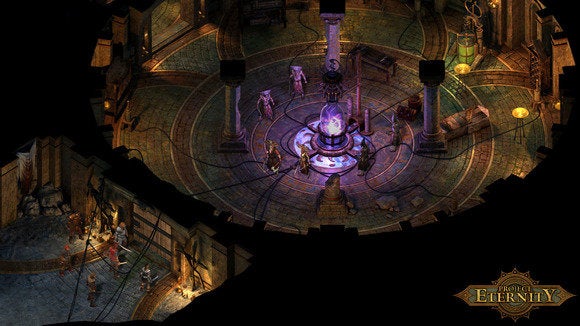 PC World wrote:
Pillars of Eternity
I can't talk about what I saw of Pillars of Eternity at the show just yet, but I can say Obsidian's spiritual successor to the old Infinity Engine games (Baldur's Gate, Planescape: Torment) is right near the top of my most-anticipated list. --Hayden

Seconded. Look for more details on PCWorld soon. --Brad
http://www.pcworld.com/article/2362964/ ... -2014.html
Posted by Dark Elf
2 comments.
---
Update 80: State of the Project - From Alpha to Beta
Wed Jun 11, 2014 9:34 pm
Update by Brandon Adler, Lead Producer
 


 
Hey, everyone. Due to E3 crunch we are going to push off Josh's next class update for a couple of weeks. Instead, I will give an update about the general state of affairs for each department on the project now that we are getting ready to head into our Beta period. The next update will feature Josh's final class update along with info from the Eternity E3 presentation. Let's get into it.
 
Status
 
Area Design
 
All of the areas have been in the game for about a month now, and the area designers have been revisiting each area to make sure everything is in order. They're using specially crafted Alpha checklists to make sure that none of the major items are missed. For example, designers are checking that the area has a proper navigation mesh, ambient sound effects are placed, and scene transitions are working as intended.
 
Josh (Project Director) and Bobby (Area Design Lead) are heading up meetings to review all of the quests in the game. Each quest is played through by the team and analyzed. We ask basic questions like "Why is this quest fun?", "Does the player care about this quest?", and "What hooks the player into starting the quest?" If anything is lacking, the design team spruces the quest up to make it a memorable one.
 
Over the Beta period the designers will continue fixing bugs and polishing content.
 
Environment Art
 
Much like our area designers, our environment artists have been revisiting all of the areas of the game and performing their Alpha checklists to make sure all of the areas pass art Alpha. In addition to the checklists, they are performing polish work that had been identified previously by Bobby and Rob (Art Director) on areas.
 
Currently, the environment artists have done a pass on all of our critical path areas and they will be moving onto our side content once we enter Beta.
Take a look at one of the areas that has gone through Alpha polish without a paint-over pass:
 


 
Systems Design
 
Now that our systems are all in place, Josh has been focused on balance and polish bugs that have piled up over the course of the project. For me, this is one of the more exciting times in the project because the game really starts to take shape and become fun.
 
Game balance will continue throughout our Beta period, right up to our release.
 
UI
 
Kaz (Concept and UI Artist) has been finishing up the last remaining UI screens. He is now working on Scripted Interaction images, icons, area paint-overs, and portraits and will be doing so for the foreseeable future.
 
Animation
 
The animation team has been wrapping up the last B priority items and will moving into full-time polish until the end of the project. B priority animations are things like special creature attacks, class-specific spell casts, or animations for minor creatures (animal critters, for example).
 
Once the animation team has finished up creating the animations, they will be focused on animation polish.
 
Character Art
 
Our character artists have completed all of the creatures and creature variants we planned for the game (and even a few that we hadn't planned on). They have also created all of the base weapon and armor variants, and now character art is focused on finishing up all of the unique armors and weapons.
 
Once they complete the last bit of gear, they will move onto creating a few additional head and hair variants for each race. Like the rest of the team, they will also be polishing content for the remainder of the project.
Have a peek at one of our unique armors:
 


 
Narrative
 
The narrative team finished up the critical path a few weeks ago and now they have their focus on completing side content in our various regions. Eric (Lead Narrative Designer) has been tweaking and polishing the E3 demo areas, while Carrie (Narrative Designer) has been hard at work finishing up some of our companions. Narrative is also polishing up the areas that will be used in for our Backer Beta.
 
Over the next few months narrative will finish our companions, and we are going to start finalizing and locking down on the writing to prepare for localization and voice over.
 
Programming
 
At this point, the project is completely feature locked. The programmers are fully focused on fixing the mountain of bugs that have built up over the course of the project. There are still some items that need to be finished (installers, for example), but the majority of the work will be put towards fixing and polishing existing systems. This is where the build (that may have been unstable throughout development) really starts to come together.
 
VFX
 
The team is continuing to crank away at VFX. It is one of the areas of the game (along with narrative and audio) that are not at an Alpha level, which is intentional. The later on the project that you can bring the VFX team on, the lower the amount of rework that they will have to do on assets that may get changed.
 
We have added VFX on a little less than half of the spells and abilities, on all of our VFX creatures (creatures that are VFX driven instead of our normal creature pipeline), and on all of the critical path areas. We are scheduled to be finished with VFX in a couple of months.
 

 
Audio
 
Much like VFX, audio usually comes onto our projects a bit later than other departments. Many of our areas have had an ambience pass and are sounding really good. Same goes for our creatures - more and more of their SFX are being hooked up every day. We have also completed our initial pass on things like UI sounds, and very shortly, our audio team will create sounds for our spells and abilities.
 
Justin (Audio Director) has been working on finishing all of the music tracks for the game. In fact, he just finished composing our main theme.
 
Much like VFX, this audio team is scheduled to finish in a couple of months.
 
Overall
 
Overall, the project is coming together nicely. We have a ton of work that still needs to be done, but the team is starting to see the light at the end of the tunnel. There are no major roadblocks ahead of us at this point and now it's a focus on getting as much polish done as we can before our final release candidate.
 
That's it for this update. Let us know what you think in our forums.
 
Kickin' It Forward - Witchmarsh
 



From time to time we like to spread the word about interesting Kickstarter Projects that catch our eye. This time around, it's a project called Witchmarsh - a story-driven action RPG set in 1920s Massachusetts with a supernatural flair. Here is a quick summary taken from their Kickstarter page:
 
"It's the Roaring Twenties! Join an unlikely team of detectives as they charge headlong into the darkest corners of rural America. Their mission: find and return twelve missing townsfolk who vanished under mysterious circumstances. A handsome reward is in store should they succeed, but with the supernatural lurking around every corner, will any of them live long enough to collect it?"
 
Take a look and if you like what you see, show them your support! There's only a short time left before their campaign ends.
Posted by Dark Elf
0 comments.
---
Update #79: Graphics and Rendering
Wed May 28, 2014 8:15 pm
Update by Adam Brennecke, Lead Programmer and Executive Producer
 
Over a year ago, in Update #49, we showed you the first movie of Pillars of Eternity. The movie showcased a beautiful scene in the Dyrwood complete with dynamic lighting, per-pixel occlusion, dynamic water and waterfall, and a day-night cycle. In this update I would like to give you an inside look on how these images are put together and rendered in the game, and I will cover new rendering features that we've added over the past year to address feedback from our backers about how our characters look in the scene. Warning: things might get technical!
 
E3
We are going to be going on update hiatus for the next three weeks as we prepare for E3 in Los Angeles. After E3, the next update will feature the final classes covering The Front Line (fighters and barbarians).
 


 
At E3, the team will be showing Pillars of Eternity at the Paradox booth behind closed doors. To avoid spoiling what we will be showing, we will be saving these moments until you get to play it. Because we want to include you in the experience, we will be taking photos at the booth, and in a future update we will be sharing more screenshots from the demo. To give you a small taste, here's a sneak peek at a scene that will be shown at E3:
 


 
Rendering Time
Backgrounds
 



As we mentioned previously, our beautiful backgrounds are rendered out of Maya as a 2D image. They are very large images, sometimes over several gigabytes of raw data, and before the images get into the game we run a program that compresses the data. Maya renders out the backgrounds in four layers or "passes": final, depth, normal, and albedo. These passes are combined together in Unity for per-pixel occlusion of 3D objects, and for real-time dynamic lighting. When we bring the backgrounds into the game, they look like a flat 2D plane, and when viewed in Unity's editor the whole world has an awkward skewed look to it. The illusion comes together only when an orthographic camera is placed at the perfect angle.
 


 
Characters
 
Next we overlay the 3D world on top of the 2D rendered image. The characters are dynamic 3D skinned meshes that are animated and then rendered into the scene with a variety of shaders and materials. Our default material that we use on most characters includes a normal map (adds tiny variations in surface detail), specular map (adds shininess), and an albedo map (adds the base color). The default material also supports a tint map, which allows our designers and you to customize the colors of armor, hair, and skin.
 
We have other shaders that can change the look and feel of characters. For example, we have a metal shader for armor that adds an extra level of shininess and can reflect the environment via an environment map. A Cloth shader removes the shininess, and allows the character artists to make outfits made up of cotton, wool, and satin. We have special materials, like an emissive shader that isn't affected by light, used for the fire-godlike, ghosts, spectres, and the windows seen in the screenshots and video.
 
Because the characters are 3D, they need to be lit differently than the background image. We use a system with two directional lights. The first directional light is the key light and typically matches the sun color and intensity in outdoor scenes, and this light can be modified by the day-night cycle to cast moonlight at night. The second directional light is used as a fill light to make sure the "back side" of a character isn't in total darkness. The two lights are adjusted per scene depending on the pre-rendered light settings to match the sun direction, mood, and desired atmosphere.
 
In addition to the directional lights, we use dynamic deferred lights that can affect the background and characters. For example, if a torch is placed in a scene, the torch can illuminate both the 2D environment and a 3D character standing nearby. In addition, deferred lights are used for spell effects; a fireball explosion emits a burst of light, brightening up a dark dungeon room.
 
Bringing it all together
 
We noticed, and so did many of you, after releasing our first few screenshots, the 3D characters were not matching the 2D rendered scene as much as we would have hoped. So we put our thinking caps on, and we came up with new features since our first batch of screenshots, including dynamic ambient and a shadow control system.
 
To really make sure the characters fit in the scene, we came up with an ambient system that samples color from the 2D background, simulating a quick and dirty global illumination model. Characters pick up subtle color variations depending on where they are standing and what type of environment they are in. If a character is standing in a lush green jungle, it will pick up a subtle green hue from the light reflected off the environment. Game programmers love fast and cheap methods, and the ambient system gives us great results with little impact on rendering performance.
 
Ambient before and after:
 



Another feature that we've added recently to solve the issue of grounding characters into the scene is a system to shadow 3D characters when traversing into dark shadowy areas in the 2D image. The new system samples a low resolution image map which controls the contribution of the directional sunlight on the character, and to avoid double shadows, the same image controls the value of the dynamic shadow map. Lastly, to better match the 2D and 3D shadows, we color the dynamic shadow to match the 2D rendered shadow color (which often has a blue hue to it).
 
Shadow Blending before and after:
 



To tie everything together, we can optionally add post process effects. In this scene, we've added a very subtle bloom effect that effects both the environment and characters.
 
I hope you didn't get lost in all the technical talk! The important thing is that we hope you like the end result. We are satisfied with where we are at, but we always have a few ideas on how to improve the look and quality of the graphics. Improving the look of the game will be an ongoing process until we ship... and beyond. If you have any questions, please ask in our forums! Thanks for reading.
Posted by Dark Elf
0 comments.
---
Update #78: The Leaders of the Band: Chanters and Priests
Fri May 16, 2014 6:47 pm
Update by Josh Sawyer, Project Director
 
For our third class update, we will be covering chanters and priests. Along with paladins (covered in Update 56), these classes provide parties with their core support bonuses and healing effects. Different games refer to these types of characters using different terms -- usually "leader" or "support" -- but at their core, they excel when they are providing assistance to their teammates. The benefits they provide to the group often outstrip the contributions of individual party members in the final tally, but their abilities must be used carefully to maximize their impact.
 
Our next update will be from Adam Brennecke. He has some great graphical enhancements to share that we hope you'll enjoy. After that, our final class update will be on The Front Line: fighters and barbarians.
 
All three of the leader classes have a balanced suite of offensive abilities and though there is overlap in the effects of their various support abilities, they differ significantly in how they are used. Paladins utilize persistent auras to provide strong bonuses to allies in their immediate vicinity and limited-use single-target commands to grant powerful buffs to individual teammates. Chanters' phrases create a rotating cycle of bonuses that shift over the course of combat, building up energy until they can utter powerful invocations. Priests are traditional casters, relying on large area of effect bonuses mixed with small area offensive spells to direct combat from afar.
 


Kana Rua, a chanter.
 
Chanters are storytellers and repositories of ancient lore from myriad cultural traditions. They use these stories and legends to stir the memories of the dreaming lost souls and soul fragments that surround them. The spirits respond by creating magical effects, essentially playing their part in the recreation of the legends. In this way, chanters act as directors of supernatural actors playing out momentary plays for the chanter's benefit. Due to their heavy focus on folktales and storytelling, they have an inherent bonus to Lore. As explorers of many lost and forgotten vaults dating back to Eora's antiquity, chanters also have a bonus to Mechanics, helping them bypass tricky locks and traps.
 
To use their special kind of magic, chanters link together individual short phrases from different legends to create longer chants. The phrases have distinctive, thematically-appropriate effects that are of low power but can be applied while the chanter is engaged in other combat activities. As one phrase ends and another begins, the effects of the first phrase will linger, allowing multiple phrases to overlap with each other. Through the clever overlapping of phrases, chanters can grant their allies a sizable stack of minor bonuses.
 
But chanters aren't entirely about their passive phrases and chants. With each phrase that passes, chanters gain greater control over the spirits assisting them. When enough control is gained, chanters can direct them to perform a single powerful spell called an invocation. Invocations are often support-oriented, but some contain powerful offensive effects. Invocations are so powerful that they disrupt a chanter's chants, disabling their effects for several seconds until the chanter can recover.
 
While Eora's wizards are known for their "colorful" spell names, chanters' phrases are far more loquacious, often incorporating the entire spoken text of the phrase.
 
Sample chants:
 




Blessed Was Wengridh, Quickest of His Tribe

- Movement rate and Reflexes increased for allies in the area of effect.



Thick Grew Their Tongues, Stumbling O'er Words

- Enemy Concentration is reduced. (Will)



The Fox from the Farmer Did Run and Leap

- Enemy Disengagement Attacks have reduced Accuracy.



The Silver Knights' Shields Broke Both Arrow and Blade

- Increases the Deflection of allies in the area of effect.



At the Sight of their Comrades, their Hearts Grew Bold

- Increases the Fortitude and Will of allies in the area of effect.


Sample invocations:  



Not Felled by Axe, Nor Broken by Storm

- Increases allied Slash and Shock Damage Threshold.



If their Bones Sleep Still Under that Hill, None Can Say

- Summons three skeletons.



The Thunder Rolled like Waves on Black Seas

- Stuns and pushes enemies in the area of effect. (Fortitude)



The Lover Cried out to the Beloved, "I am Yours!"

- Charm effect on all enemies in the area of effect. (Will)



Rise Again, Rise Again, Scions of Adon!

- Revives unconscious allies and heals a small amount of Stamina in a large area. This has no effect on characters who have already been Maimed or Killed in combat.



The Brideman Slew Thirty 'Fore they Crossed Half the Hall

- Increases the Might, Constitution, and Resolve of allies in the area of effect.


In addition to their chants and invocations, chanters' close association with the Lost gives them one final, passive power: Ancient Memory. This ability activates whenever the chanter is in combat and grants low-level Stamina regeneration to all nearby allies. It is not as strong as a fighter's Constant Recovery or a priest's Holy Radiance, but can affect even faraway allies at all times.  
Cadegund, a priest.
Priests are devoted followers of one or more deities, though almost all have a primary dedication to a single god above all others. They are well-versed in philosophy, myths, and legends, giving them an inherent bonus to the Lore skill. Additionally, the requirements of their faith often involve traveling long distances in difficult circumstances, giving them an inherent bonus to Athletics.  
In the world of Eora, priests do not gain power directly from their deity, but from their belief in the deity and the tenets of their religion. Paladins share a similar source of power, but differ from priests in the intensity and nuance of their beliefs. Paladins' faith is single-minded, extremely passionate, and held above all other concerns. The faith of priests is more philosophical, open to criticism (both their own and from others), and malleable from individual to individual. While paladins are ever-burning wellsprings of spiritual energy, priests gather energy into their own souls and release it through the use of specific prayers. These prayers form the common spells priests use in battle, ranging from healing magic and divine attacks to a variety of blessings and curses.  
Compared to wizards, priests have access to a smaller number of spells overall but do not need to prepare those spells in a grimoire. And while priests do have offensive spells, they are smaller in area and generally weaker in power than similar effects available to wizards and druids. Here are a few:  



Restore Minor Stamina

- Part of a series of progressively powerful Stamina-healing spells. Restores Stamina to all allies in the area.



Armor of Faith

- All allies in the area gain bonus Damage Threshold.



Withdraw

- Caster or ally is momentarily phased out (cannot act, cannot be targeted) and regenerates Stamina.



Divine Terror

- All enemies in the area are Frightened for the duration (Will).



Consecrated Ground

- Creates a long-lasting circle of Stamina regeneration on the ground for allies.



Divine Mark

- Blasts the target with Burn damage and reduces their Deflection for a short duration (Will).



Holy Power

- Allies' Might and Resolve are increased.



Pillar of Faith

- Does Crush damage to the target (Reflex) and knocks enemies Prone (Fortitude) in a small area (Foe Only).





Prayer Against Restraint

- Part of a series of spells that ward against afflictions. Grants a bonus to resist any attack containing the Hobbled or Stuck afflictions. If those afflictions are already on the target, their durations are reduced by 10 seconds (Hobbled) or 5 seconds (Stuck) respectively.



Watchful Presence

- All affected allies gain an effect on them that will last until the end of combat or until triggered. When any affected character drops below 20% Stamina, Watchful Presence will heal a significant amount of Stamina on the character.



Triumph of the Crusaders

- Allies gain a bonus that restores Stamina every time they defeat an opponent. The ally must strike the "finishing" blow to gain the benefit.



Revive the Fallen

- Revives and restores a modest amount of Stamina to unconscious allies in a small area. This has no effect on characters who have already been Maimed or Killed in combat.



Salvation of Time

- Extends the duration of all beneficial effects on allies.



Crowns for the Faithful

- Increases the Perception, Intellect, and Resolve of all allies in the area.



Cleansing Flame

- Hurls a ball of holy fire at an enemy. It does continuous Burn damage to the target and reduces the duration of beneficial effects (Reflex). After a few seconds, the Cleansing Flame leaps to another enemy within 3m and repeats the process again, ultimately affecting up to three targets. If no valid targets are in range when a leap occurs, the spell expires.


In addition to their spells, all priests have two inherent abilities: Interdiction and Holy Radiance. Interdiction is a fast-acting Dazed effect that the priest can apply to a group of enemies. It does not have a long duration, but can be valuable in gaining a quick advantage.  
Holy Radiance regenerates Stamina for all allies in close proximity to the priest. Additionally, any vessels (spirits bound into unliving matter like dead flesh, copper, or bronze) hit by the effect take Burn damage and are Frightened if the radiance overcomes their Will.  
The power of both Holy Radiance and the paladin's Faith and Conviction abilities can be modified by their behavior and the reputations they develop from the choices they make. When players make a paladin or priest character, they select an order or deity, respectively. Each choice highlights two types of behavior that are celebrated and two types of behavior that are condemned. For priests and paladins played as the main character, their Holy Radiance and Faith and Conviction power will shift based on their behavior. Reinforcing their deity's or order's preferred behavior will gradually increase their power, while playing against type will cause a small diminishment in their power. These changes are not dramatic, but reflect a measure of dissonance between the character's stated faith and how they choose to conduct themselves.  
A few paladin orders:  



The Shieldbearers of St. Elcga

- An order of Aedyran holy warriors who emphasize kindness and diplomacy over cruelty and aggression. The Shieldbearers were founded in honor of an elven noble who helped unite the Aedyr and Kulklin kingdoms after a long war.



Kind Wayfarers

- Knights-errant who assist troubled travelers and celebrate love, condemning deception and malice even when dealing with their enemies. The Kind Wayfarers are a diverse group of people and can be found all over the known world.



Bleak Walkers

- Soldiers dedicated to conducting warfare mercilessly and with extreme brutality in order to bring a swift end to conflicts. Known for their unyielding, terrible nature, most nobles will only call on them as a last resort.


Some of the deities priests can select:  



Eothas

- Presumed dead by many, Eothas is (or was) the god of renewal and light. His followers exemplify honesty and benevolence in their interactions with others. In the Dyrwood, Eothasians are often victims of prejudice due to the aftermath of The Saint's War, in which the Eothasian peasant known as St. Waidwen led a holy war into Norwaech.



Magran

- A goddess of fire and warfare, Magran is celebrated by many Dyrwoodans for her priests' assistance in The Saint's War. Already known for their use of firearms, the priests collaborated to develop the "Godhammer" bomb that destroyed St. Waidwen at Evon Dewr Bridge. Statues of Magran can be found all over the Dyrwood and Magranites are popularly known for their boldness and quick wits.



Berath

- The god (or goddess) of the dead takes many forms in different cultures, but their names are widely invoked by most people at one time or another. Theologians see Berath as the guardian of all gateways, including the gates of life, death, and rebirth that all mortals must pass through. Common folk fear the priesthood of Berath but respect them for their level-headedness and unflinching resolve in the face of endless death and suffering.


The Leaders of the Band are a powerful trio of classes for players who choose to focus on bolstering their allies. Each class has its own style of providing benefits and we hope you enjoy experimenting with their varied mechanics.  
That's all for this week. Let us know what you think of the chanter and priest in the forum. As always, thanks for reading.
Posted by Dark Elf
6 comments.
---
Update #77: Art in Alpha
Thu May 01, 2014 7:57 pm
Update by Rose Gomez, Associate Producer
 
Greetings backers! In today's update, we've got some great new character, and area art for you to check out. Our artists have been hard at work creating beautiful new areas and lots of new armor for the game. Our next update will be the next chapter in the class series, all about chanters and priests, by Josh Sawyer.
 
Characters
 
Recently our character artists have been hard at work crafting as many armor types as possible. All of our armor types have a variety of quality levels: normal, fine, and exquisite. JD Cerince recently finished up the plate armor designs for the game, which you can see here.
 


Plate Armor.
 
James Chea worked on the scale armor for the game. Below you can see a few varieties for female player characters. Cloth pieces for our armor sets can be tinted as in Baldur's Gate and Icewind Dale.
 


Scale Armor.
Areas
It's not all dungeons and darkness in Pillars of Eternity. Sean Dunny finished up the beautiful beachy area of Anslog's Compass. Wave effects and details are courtesy of John Lewis. Named for a rocky stretch of land which theoretically resembles a sundial, this lagoon provides decent fishing for both brave Dyrwoodans and a local contingent of xaurips. More than one ship has met its end upon the nearby reef, and debris occasionally washes ashore from the wreckage.
 


Anslog's Compass.
 
Here you can see the Hall of Warriors done by April Giron. This large wooden structure is used as a meeting place for visiting warriors within Twin Elms. It is here that the Glanfathan hunters gather and tell stories of past deeds, discuss upcoming events and hunts, and conduct friendly contests of physical prowess (arm wrestling, tests of endurance, etc.). Sometimes, a visiting anamfath will take residence in the hall when visiting the city.
 


Hall of Warriors.
 
Here we have a section of a much larger dungeon by Sean Dunny. This is from Clîaban Rilag, an Engwithan ruin.
 


Clîaban Rilag Entrance.

That's it for this week. We hope you enjoyed this quick art update! Come back next week for a thorough update on chanters and priests by Josh Sawyer.
Posted by Dark Elf
0 comments.
---
Test your strategy with InterCasino blackjack games at an award winning online casino.
---
Copyright notice: Unless stated otherwise, all original content on this site is (c) the Terra Arcanum staff, 2000-2013, all rights reserved. Many of the materials of this site are based on materials copyrighted by Troika Games, Sierra Studios, Atari, Activision and other companies. If this site inadvertly infringes on any of your copyrights, please get in touch with us.